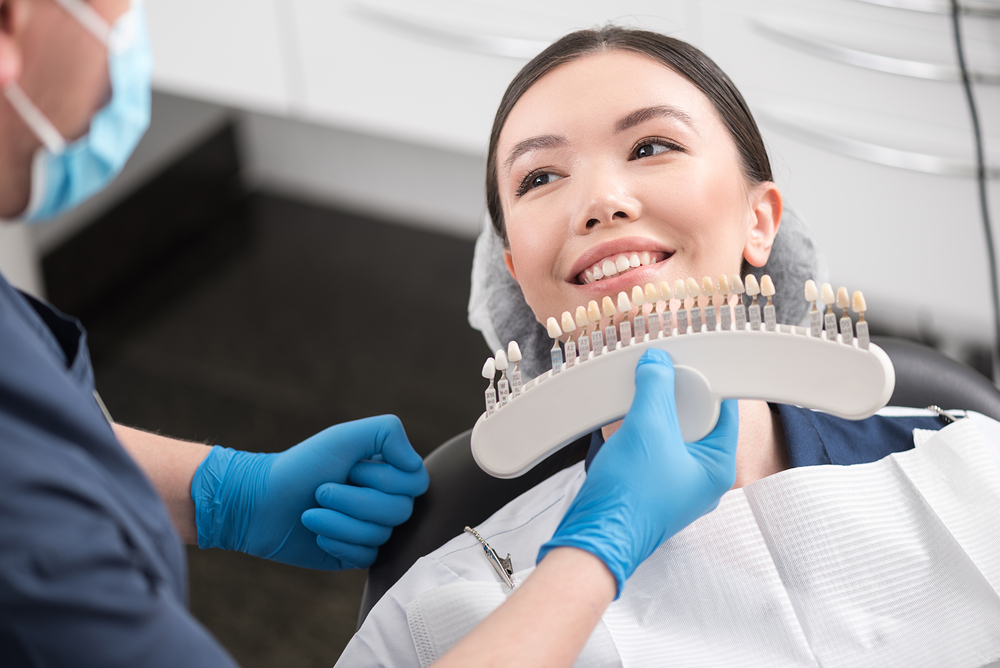 At Anthony Dental Care, we provide exceptional dental care to our patients through comprehensive restorative and cosmetic dental treatments. Dental crowns are a versatile treatment option in both areas of dentistry, as they offer a variety of restorative benefits and a wide array of possibilities for aesthetic improvement.
What are Dental Crowns?
Also sometimes referred to as a dental cap, a dental crown is a dental prosthetic. Like a cap, a dental crown is designed to fit over a natural tooth and cover the entire surface of the tooth that is exposed above the gum line.
What are Dental Crowns Made of?
Dental crowns can be manufactured from a variety of different materials such as ceramic, porcelain, ceramic fused to metal, a variety of metals, and even resin. The type of dental crown that's right for you depends on your needs, the location and visibility of the tooth being capped, and your personal preference.
Why are Dental Crowns Needed?
Dental crowns are used for both restorative and cosmetic purposes.
Dental Restoration
For dental restorations, dental crowns can be used to protect, strengthen, and save a severely damaged or decayed natural tooth. For example, root canal therapy and a dental crown comprise the recommended treatment plan for preserving a tooth with an infected interior (infected pulp). Dental crowns can also preserve a tooth with a compromised amalgam dental filling or one that has been severely cracked, chipped, or fractured.
Cosmetic Treatment
Dental crowns can also be used for cosmetic purposes to improve the look of a smile by completely covering a natural tooth. They can be used to improve smile symmetry by correcting the size or shape of an abnormally sized or shaped tooth. They can also be used to hide metal dental fillings or stubborn stains and other discoloration.
What to Expect When Getting a Dental Crown
The dental crown procedure usually requires two appointments. During the first appointment, our dentist discusses the treatment process with the patient and begins by preparing the targeted tooth for treatment. This includes shaving off a layer of the natural tooth to make room for the new dental crown. We then take a digital impression of the patient's mouth that is used in the design and custom-manufacturing of the patient's dental crown. We then fit the patient with a temporary crown, and the patient's information is then sent to a dental prosthetic manufacturer.
Once we receive the permanent crown, the patient can come in to have it placed. This process involves cleaning and drying the tooth before applying dental cement to permanently fix the new crown in the patient's mouth.
How Long do Dental Crowns Last?
Depending on the material, dental crowns last about five to ten years on average.
How to Care for Your Dental Crown
You can extend the life of your dental crown by taking good care of it. This involves practicing good oral hygiene at home, in addition to scheduling regular dental visits. Additionally, avoid chewing on hard objects. Protect your teeth from damage with a mouthguard during athletics or a nightguard if you have sleep bruxism.
When to Schedule a Check-Up for Your Dental Crown
Over time, dental crowns might require repairs or replacement. If your dental crown falls off, feels loose, is chipped, or becomes discolored, we encourage you to schedule a dental crown restoration appointment. Depending on the state of your dental crown, we may be able to repair and reattach it or create a new crown to protect your tooth.
Dental Crowns for Restoration and Smile Makeovers at Anthony Dental Care
Dental crowns are a powerful tool in both restorative and cosmetic dentistry. Whether you have a compromised natural tooth that needs support and protection or an aesthetic imperfection, a dental crown can help you achieve your smile goals. With our in-house dental lab, we can fabricate a crown to fit your mouth and get your tooth restored more quickly. To learn more about dental crowns or to schedule a consultation with one of our dentists, we welcome you to contact Anthony Dental Care today.