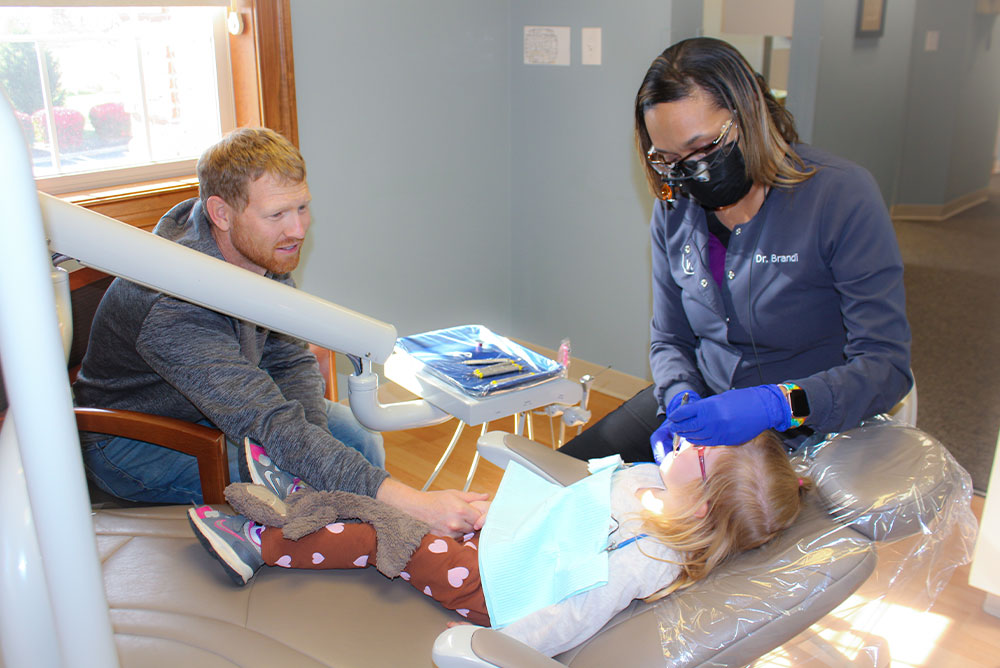 The team at Anthony Dental Care specializes in providing family dentistry designed to cater to our patients' different and ever-changing needs at all ages. As a part of our mission to love our patients well, we strive tirelessly to make every experience in our office positive and productive for all of our patients. In addition, we take special care to ensure children and adults alike get the most out of the time they spend at Anthony Dental Care.
Serving the Individual and the Family With Kindness and Top-Quality Care
We are a family dental practice which means we serve both kids and adults. Whether you come to our office on your own or wish to have us treat your whole family, we can fully meet your dental care needs by providing comprehensive dentistry designed to address each patient's oral health concerns in all stages of life.
Our office is a place where you feel welcomed and can be confident that your dental care needs will always be met. We apply the Golden Rule to all our treatment plans, ensuring we recommend the same level of care to you and your family that we would want for ourselves and our families.
Our office is designed to accommodate all of our patient's needs, ensuring adults and children are comfortable in our waiting and treatment areas. Our team uses a gentle touch and a compassionate chairside manner while being highly experienced in working with toddlers, children, teens, adults, and seniors to create rewarding dental care experiences for all.
Oral Health at Every Stage of Life: Comprehensive Care for all Ages
Oral health care needs, concerns, and treatment strategies change throughout life. What is most important for very young children, in terms of their oral health, is different from the dental care needed during a person's teenage years, adulthood, and golden years.
Our team is experienced in evaluating, diagnosing, and treating patients at every stage of life, helping to support healthy development in toddlers, tweens, and teens while working with adult patients to achieve and maintain optimal oral health. At Anthony Dental Care, we focus on providing highly personalized care to treat the individual members of each family. We work with close attention to detail to ensure each of our patients receives age-appropriate dental care.
Providing Compassionate Care From the Very First Dental Exam
We're experienced and equipped to treat patients starting from their first dental exam at about age three. From there, we adjust our care approach, exam focus, and treatment recommendations to ensure healthy development throughout childhood and optimal oral health throughout adulthood.
Our comprehensive dental care for children and adults is comprised of a wide variety of services and treatments, including:
General Dentistry
Preventive Dentistry
Restorative Dentistry
Cosmetic Dentistry
Pediatric Dentistry
Oral Surgery
Emergency Dental Care for all patients
We tailor our dental care recommendations, patient education, and treatment plans to meet each patient's unique needs. We focus on helping our young patients build solid oral health foundations and develop good oral hygiene habits and we work to help our adult patients address their oral health concerns, maintain their oral health, and create the smiles of their dreams.
Your Family Dentist in Sunbury and Centerburg
With our patient-first focus as well as our comprehensive dental services, Anthony Dental Care is the family dentist of choice for patients of both Sunbury and Centerburg. Our team looks forward to welcoming new patients and continuing to care for our existing patients throughout every stage of life.
To learn more about our dental practice and locations or to schedule an appointment, we welcome you to contact our office today.