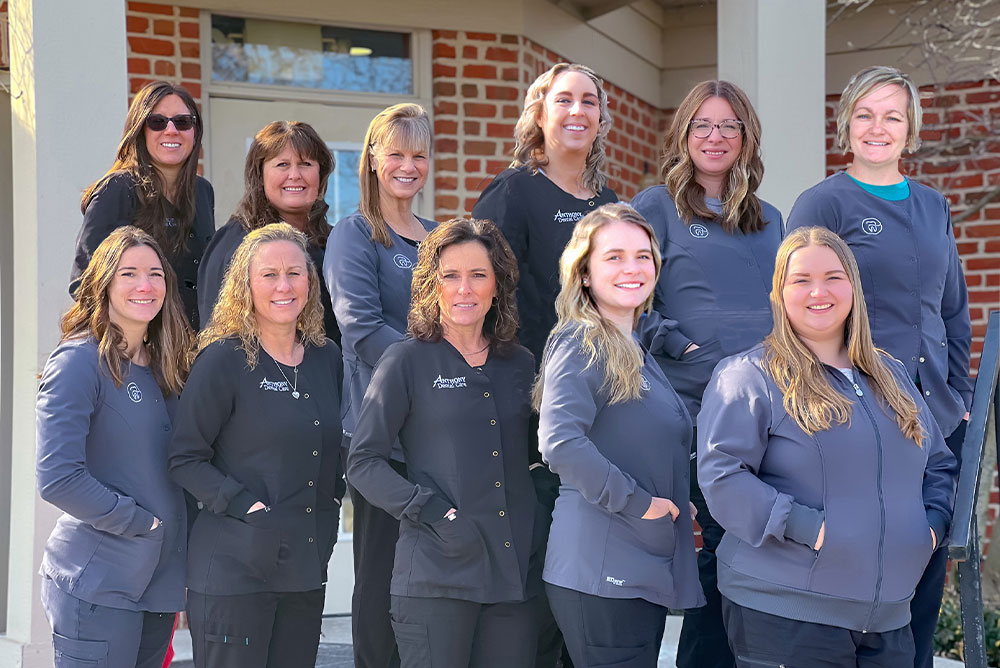 A person's smile has a big impact on their appearance and the first impressions that they make. While cosmetic dentistry treatments range from complete smile makeovers to the correction of minor imperfections, even just simple improvements can take years off of your appearance and dramatically improve your look.
At Anthony Dental Care, our team is experienced in working closely with patients to create a mutual vision for cosmetic treatments and provide them with a variety of treatment options designed to help them improve the aesthetic appearance of their smiles and achieve their cosmetic dentistry treatment goals.
What is Cosmetic Dentistry?
Cosmetic dentistry is the branch of dentistry that is concerned with the aesthetic appearance of a person's smile, teeth, gums, jawbone, lips, and all the parts of the mouth and maxillofacial structure. Cosmetic dentistry treatments are intended to improve the look of a person's smile.
Cosmetic dentistry includes procedures to correct imperfections or enhance the smile's appearance. Tooth color, alignment, spacing, and regularity of the teeth, are the characteristics that give the overall appearance. Any of these can be enhanced to provide a stunning new smile.
What Concerns can Cosmetic Dentistry Address?
Cosmetic dentistry primarily addresses issues that affect the aesthetics of a smile. Cosmetic dentistry treatments can be used to address some of the following concerns:
Stained or discolored teeth
Crooked teeth
Broken teeth
Old, silver-colored amalgam fillings
Teeth of the wrong size or shape
Smile symmetry and balance
Missing teeth
Tooth gaps
Gummy smile
Cosmetic Dentistry Treatments Available at Anthony Dental Care
At Anthony Dental Care we're proud to provide our patients with a variety of cosmetic dentistry services that can be used individually or in conjunction with other treatments to improve and enhance the look of your smile. Our cosmetic services include the following treatments:
Professional Teeth Whitening
Professional teeth whitening performed in the office or at home with take-home whitening kits offers superior results when compared to over-the-counter teeth whitening products. These products contain more active whitening ingredients since they are administered under the supervision and instruction of dental care providers.
With professional teeth whitening, we can tailor your treatments to help you achieve your desired level of whitening.
Dental Veneers
Dental veneers are thin shells of porcelain that are permanently cemented to the front sides of a patient's teeth. They can be used to create a completely new look to a person's smile by improving symmetry, covering up gaps between teeth, making teeth appear straighter, masking stubborn stains and discoloration, correcting the apparent shape of a misshapen or missized tooth, and more.
Dental Bonding
Dental bonding is a versatile and non-invasive cosmetic treatment that can be used to correct minor imperfections and restore minor damage to a person's teeth. Dental bonding can be used to fill in tooth gaps, seal cracked teeth, mask stains and discoloration, restore chipped teeth, and more.
Dental Crowns
Dental crowns are a permanent cosmetic and often restorative treatment option that completely covers and seals a natural tooth. The dental crown is designed to fit smoothly and comfortably over a patient's natural tooth, effectively replacing the tooth's entire visible portion. They are commonly used to support and preserve severely damaged teeth, but can also be used for purely cosmetic purposes since they can reshape a tooth, mask stains, and cover up old silver-colored fillings.
Dental Implants
Dental implants are a popular option for replacing one or more missing teeth. They are primarily considered a restorative dentistry treatment, as they permanently replace a tooth with an implant anchor that is placed directly in the jawbone. Although the treatment requires oral surgery, dental implants are by far the most natural-looking and feeling tooth replacement option available. They can simultaneously restore the function of a patient's smile and support the health of the jawbone while also improving the person's appearance by replacing missing teeth.
Dentures
Dentures are primarily considered to be a restorative treatment option, but replacing a patient's missing teeth also has major cosmetic benefits. With a new set of dentures, a patient can completely overhaul the look of their smile, revitalizing and improving it.
Dental Bridges
Dental bridges are intended to replace one or more consecutive missing teeth. They feature one or two anchor points on the ends of a pontic that floats in the middle, replacing the gap of missing teeth. Dental bridges can be used to restore a section of damaged teeth, replace missing teeth, or change the appearance of a section of a patient's teeth.
Cosmetic Dentistry and Restorative Dentistry Come Together for Complete Smile Restorations
A healthy smile is an attractive smile, and that's why for many patients who wish to improve the appearance of their smiles, we also recommend restorative dental care to restore the health of their smiles as well. Several of the treatments listed above are not only commonly used for cosmetic purposes but also provide restorative benefits that can help to improve the overall health of a smile in addition to its appearance.
Are Cosmetic Dentistry Treatments Covered by Dental Insurance?
Every person's dental plan is different, and the coverage for dental treatments with a purpose that is solely cosmetic will also vary.
If you are concerned about the cost of your proposed treatment plan or would like to find out how much your insurance plan will pay toward an upcoming treatment, we welcome you to contact our office. We can get in touch with your insurance provider with a list of your specific treatments and treatment purposes to determine the coverage you can expect to receive with your dental plan.
Schedule a Smile Makeover Consultation With Our Dentist at Anthony Dental Care
From minor imperfections such as discolorations or chipped teeth to major concerns such as crooked teeth and major restorations, our team at Anthony Dental Care, both Sunbury, and Centerburg, is here to help you restore your teeth and create the smile of your dreams.
If you're unhappy with the look of your smile or any aspect of the appearance of your teeth, we are here to help correct the imperfections and boost your confidence. During your consultation, we'll listen carefully to ensure we fully understand your concerns and treatment goals and then work closely with you to create a treatment plan designed to meet all of your needs while helping you achieve your smile goals.
To learn more about the cosmetic and restorative dental services available in our office or to schedule a smile makeover consultation, we welcome you to contact our office today.