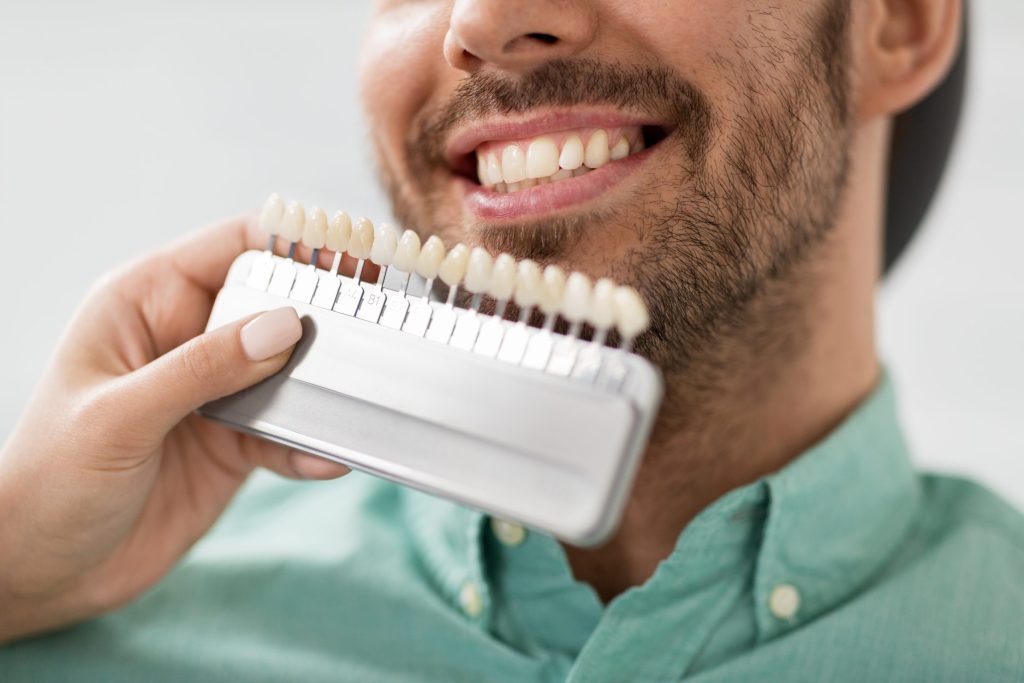 What are Veneers?
Veneers are thin porcelain shells customized for individual smiles and personalized to fit perfectly over your teeth. This cosmetic dentistry treatment is among the most effective to completely revamp your smile. While veneers cost some money upfront, you get a dazzling smile makeover in return for your investment.
How are Veneers Used?
Porcelain veneers are viable solutions for several smile situations. Some cases in which we may recommend using veneers include:
Crooked teeth: In some cases, veneers can help conceal crooked teeth without having to undergo braces. Veneers can also correct misshapen, uneven teeth, or hide gaps between your teeth.
Discolored teeth: If your teeth have been stained and do not respond well to whitening treatments, or if you're ready for a long-lasting solution to brighten your smile, veneers can be customized to the exact shade of white right for you. Your bright smile will outlast any whitening treatment on the market today.
Damaged teeth: Veneers are good options to correct chipped, cracked, and worn teeth due to accidents, grinding, and other damage. If your damage is due to nighttime grinding, however, we may recommend that you use a mouthguard when sleeping to protect your veneers and natural teeth from damage.
What is the Process of Getting Veneers Like?
Getting veneers is a comfortable and painless process. During your initial appointment, we will discuss the goals for your new smile. Once we agree on the plan, we will prepare your teeth for the veneers by removing a portion of the tooth surfaces that will be fitted with veneers. Then, we will take an impression to send to a dental lab, which will custom-make your porcelain veneers. The wait time can be up to two weeks so we will send you home with temporary veneers. When you return for your follow-up appointment, we will bond the permanent veneers to your teeth, ensuring each one fits perfectly.
Caring for your veneers is much like caring for your natural teeth. Though they are resistant to staining, you should still brush and floss like normal.
Who can get Veneers?
Anyone in good health looking to change their smiles for the better may be considered to be a good candidate for veneers. Veneers can give you the smile of your dreams — and renewed confidence in your teeth whenever the attention is on you.
However, there are some cases where a person might not be right for veneers. If you have gum disease, you must take care of your oral health before receiving veneers. It is not a good idea to undergo this treatment without first addressing the health of your gums through a treatment plan that you and your dentist will plan on completing. Once your gums are in good shape again, though, veneers are back on the menu.
Curious about whether veneers would be right for you? Give us a call to schedule a consultation today!