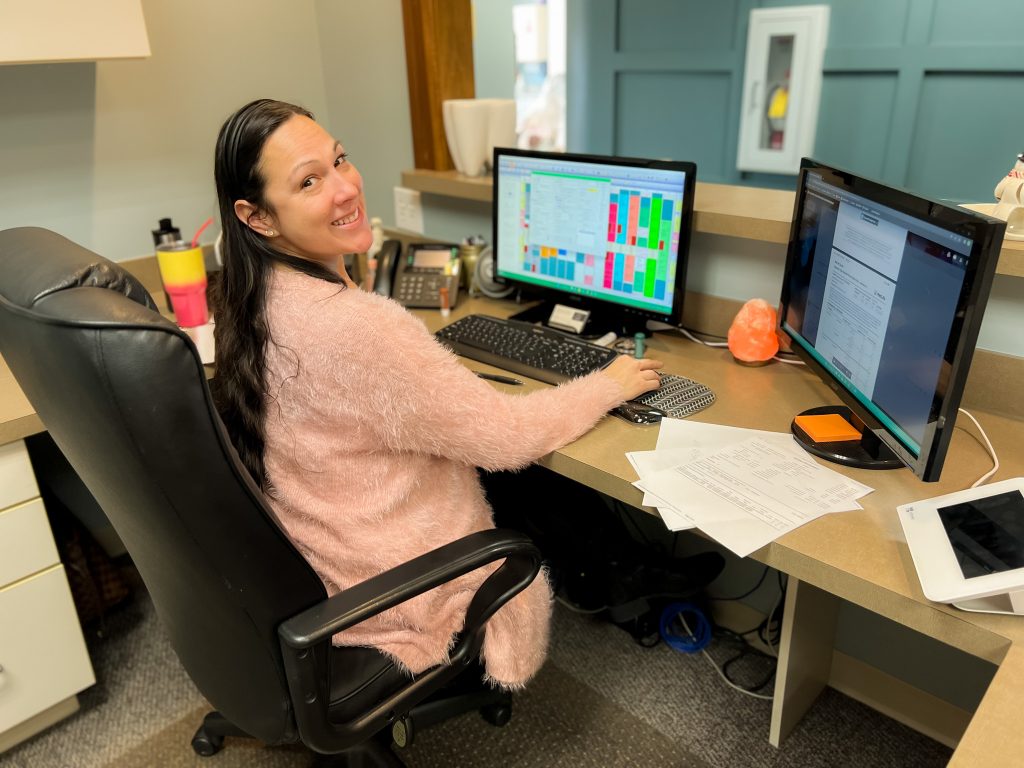 You asked, and we answer! Read our answers to our patients' most common dental questions below. Have something to ask us? Contact us today!
Why are Dental Checkups Important?
Dental checkups are important because they give you the opportunity to touch base with your dentist on the health of your teeth, gums, and mouth overall. Most of the time, you should be seeing us every six months for deep cleaning and exam. Even if you brush twice a day and floss every day, you still need our help to clear all of the plaque on your teeth. Dental exams play a big role in the prevention of serious issues like tooth decay and gum disease — and early detection of cases of oral cancer. The earlier a possible problem is caught, the better.
Is it Bad if Your Gums Bleed When Flossing?
Healthy gums don't bleed when flossing, but the sight of a little blood can be common for sensitive gums. Especially if you don't floss every day, as is recommended, you may experience bleeding when you do. Once you get into the habit of flossing every day when you brush your teeth, you should see the bleeding gradually stop within two weeks.
If there is a lot of blood when you floss, or if the bleeding does not stop with regular flossing, it could be an indication of gum disease or another serious issue. It's important to schedule an appointment with us at this point so we can start periodontal treatment. Left unchecked, gum disease can lead to tooth loss and affect the health of other parts of your body.
What Happens if You are Missing a Tooth?
It can be tough to be confident in your smile if you are missing a tooth — whether it's from an accident or if it has been professionally extracted as a part of your dental treatment plan. It's important that you replace your tooth as soon as possible so that the rest of your teeth will not shift in your mouth. Some options include:
Dental implants
Dental bridges
Partial dentures
We will work with you to help determine the best option for your smile and health.
What's the Difference Between Dental Implants and Bridges?
Dental implants and bridges are both effective treatment options when it comes to replacing missing teeth. There are pros and cons to each, and we will help you decide which is the best option for your health.
Dental implants are permanent and natural solutions to missing teeth. During this treatment, an anchor will be surgically implanted in your jawbone, where it will fuse with your bone just like your tooth's root. A crown matched to your smile will complete the treatment.
Bridges can be permanent or removable, and utilize wires and existing teeth to help stabilize your replacement tooth.
Will Insurance Cover Dental Treatments?
Our Anthony Dental Care website lists the in-network insurance carriers that are available here. Even so, some dental treatments may not be covered, or may only be covered partially by your plan. If you have questions about your coverage, we will reach out to your insurance company directly to determine what is covered. Prior to receiving your dental treatments, we will make sure you are informed of what you might be responsible for paying out of pocket.
How can You Schedule an Appointment at Anthony Dental Care?
Ready to schedule your six-month cleaning? Curious about whether a treatment would be right for you? Having a dental emergency? We're here for you. Schedule your appointment with Anthony Dental Care by calling us, emailing info@anthonydental.com, or through our website.