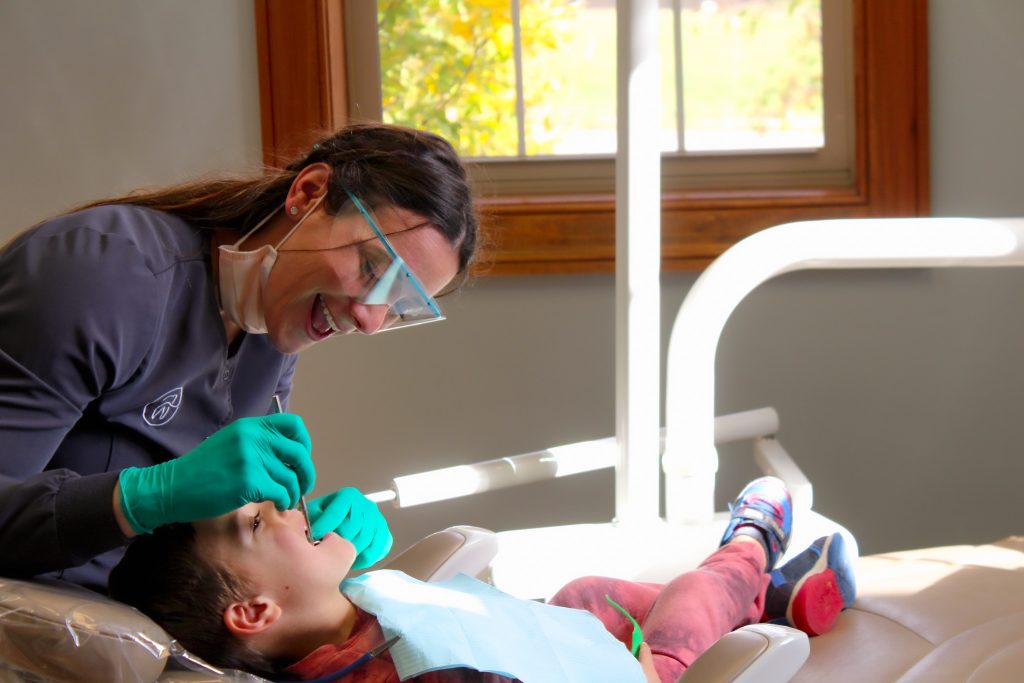 Learning to practice good oral health and hygiene habits are essential to creating a solid foundation so that a child can benefit from having good oral health for life. Our pediatric dentistry services are designed to promote exceptional oral health in children with preventive care strategies, support the proper development of their teeth and jawbones, teach proper oral hygiene habits and techniques, and help children learn the importance of caring for their teeth in this formative stage.
A Child's First Visit to the Dentist
The American Dental Association recommends that children have their first dental examination either by the time they celebrate their first birthday or when their first tooth erupts (whichever event happens to occur first).
During your child's first dental appointment, our dentist will count and examine your child's teeth, look at their gums, examine their jaw and bite, and evaluate their growth and development. Whether or not a dental cleaning is performed during the first visit depends on the child, their stage of development, and their individual oral health needs.
As much as early dental exams are focused on creating a solid foundation for good oral health for life, these appointments are also about helping your child develop healthy habits and positive associations with dental care. We always work gently, explain every step we take to your child, and ensure they feel comfortable throughout their exam.
Pediatric Dental Cleanings and Examinations
A child's dental cleaning is similar to that of an adult's, and we tailor each appointment to meet the individual child's needs during their particular stage of oral development.
During the cleaning one of our skilled dental hygienists uses special dental tools to scale and polish your child's teeth, removing any accumulated plaque and tartar to promote gum health and prevent dental cavities from forming. After their dental cleaning, our dentist examines your child's teeth, gums, and other oral structures to evaluate development while also looking for any signs that could indicate potential oral health concerns.
We take special care to explain each step of the cleaning procedure to your child (in age-appropriate terms) to ensure our young patients feel comfortable and understand what we are doing and how the tools we use work.
Preventive Dentistry Treatments for Children
In addition to routine cleanings and examinations, we highly recommend preventive dentistry treatments such as fluoride treatments and dental sealants.
Fluoride Treatments for Children
Fluoride helps to strengthen the outermost layer of your child's teeth by fortifying the tooth enamel with the mineral fluoride. Fluoride treatments at the dental office help to restore soft spots in the enamel that are caused by tooth decay in order to prevent future cavities from developing.
Dental Sealants for Children
Dental sealants are especially appropriate for children who have permanent molars. Dental sealants are a quick, painless, and non-invasive way to seal the surface of your child's molars, making them easier to clean and helping to prevent the development of cavities.
Comprehensive Pediatric Dentistry at Anthony Dental Care
We're fully equipped to provide your whole family, including the youngest members, with complete and comprehensive dental care. In addition to preventive care with dental exams and cleanings, fluoride treatments, and dental sealants, we offer:
Health screening
Oral development evaluation
Diagnoses with digital dental x-rays
Habit appliances
Emergency care
Patient and parent education
Schedule Your Family's Next Dental Appointments in Sunbury or Centerburg
At Anthony Dental Care, both Sunbury and Centerburg, we're proud to provide our patients' entire families with comprehensive, high-quality dental care. If you have children of any age, we welcome you to contact our office to learn more about our pediatric dentistry services or to schedule your family's next dental examinations and cleanings.