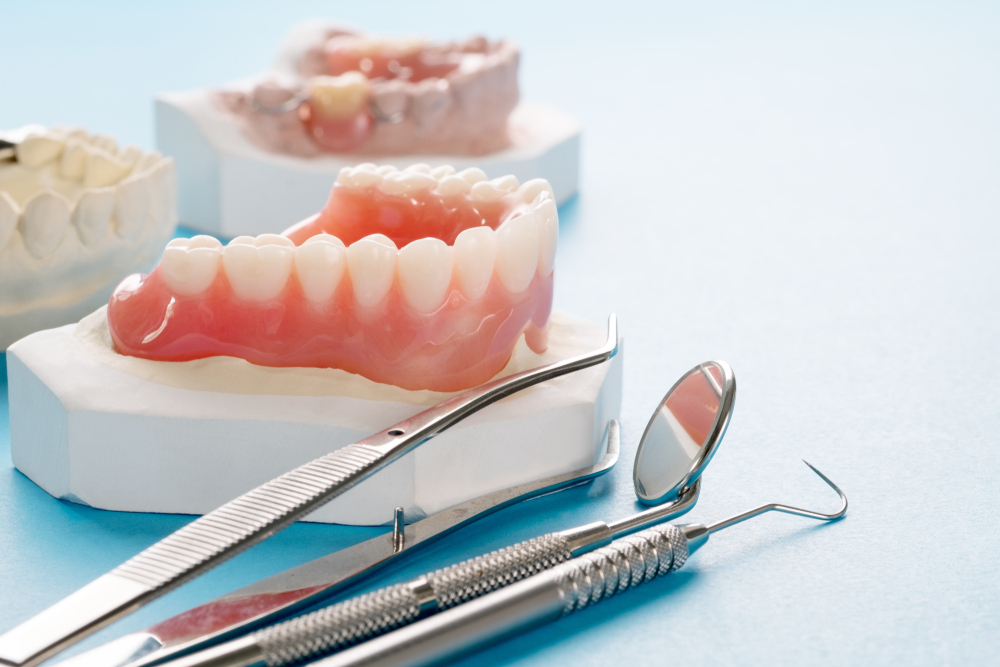 Whether you're missing all or most of your teeth, you know how big of an impact living without a complete smile can have on the quality of your life. At Anthony Dental Care, we have several tooth replacement treatment options available, including a variety of dentures, that can restore your smile to its full form and function while also restoring your quality of life.
What are Dentures?
Dentures are, perhaps, the most traditional of the tooth replacement treatment options available. They have been around, in some form, for millennia. Today's dentures, however, are custom designed to each patient's unique specifications. Plus, they are much more sleek, attractive, effective, and comfortable than those worn by our ancestors.
Dentures are a type of dental prosthetic that is designed to replace all or most of a patient's teeth. They are made from a soft plastic that is comfortable to wear against the delicate gum tissues inside the mouth and feature a gum-like base topped with arches of natural-looking artificial teeth.
Top dentures are designed to hug the top arch of the gums and cover the hard palate at the roof of the mouth. Bottom dentures are designed to fit snuggly over an individual's bottom arch of gums.
Denture Treatment Options
When it comes to replacing teeth with dentures, there are a few treatment options to consider.
Full vs. Partial
The first choice to make is between full and partial dentures. Full dentures are designed to replace all of the teeth on one or both arches. Partial dentures are designed to replace several teeth, but not all of a person's teeth. Often, if a patient has only a few remaining teeth, the extraction of these teeth might be recommended in order to achieve a more comfortable fit with a full denture rather than a partial denture prosthetic.
Traditional vs. Fixed
The second option with dentures is whether a patient prefers to have traditional or fixed dentures. Traditional dentures are designed to be removed each night for cleaning. They are custom designed to achieve a secure and comfortable fit in the mouth over a patient's natural bone structures. They can be worn with or without dental adhesives to improve their security.
Fixed dentures are designed to attach to a number (usually four) of strategically placed dental implants. They can either be permanently fixed (all-on-4 implant-supported dentures) or removable (overdentures or snap-on dentures). These dentures offer the security and natural feel of dental implants in addition to supporting the health of the patient's jawbone. They do, however, require a lengthier process for first placing dental implants.
What are the Benefits of Replacing Teeth With Dentures?
Full and partial traditional dentures are typically a highly cost-effective and efficient method of replacing all or most of a patient's teeth. Additionally, unless a patient opts to have remaining teeth extracted, treatment with dentures is usually a non-invasive treatment option that does not require surgery.
Fixed dentures offer some of the same benefits as traditional dentures, but with the added benefits of dental implants. Although the dental implantation process can be lengthy and does require oral surgery, implant-supported dentures offer superior stability, comfort, and security in addition to the added benefits of dental implants that support the health of the jawbone.
What to Expect When Getting Dentures
The process of getting dentures varies slightly depending on the type of dentures you choose for your tooth replacement option.
When receiving traditional dentures, your treatment process will begin with a consultation and then might be followed by a tooth extraction or denture preparation appointment. After your mouth has been fully prepped for dentures, we take a digital scan and dental x-rays to use in the design and manufacture of your new dentures. Once your dentures are ready, we schedule you for a fitting and adjustment appointment. During this appointment we have you try on the dentures so that we can make any necessary adjustments before sending you home with them. At this time, we can also answer any questions you might have about wearing and caring for your dentures.
The process for getting implant-supported dentures is similar but begins with the dental implant process and a healing period. This process can require six months to a year depending on the number of implants needed and the individual patient's healing response to treatment.
Does Insurance Cover Dentures?
Your insurance provider will likely cover some of the costs associated with obtaining dentures — if not all of them. However, every dental plan is different. When you reach out to Anthony Dental Care to schedule a dentures consultation, we will contact your carrier to determine what, if any, cost you might be responsible for during the treatment.
Will it be Difficult to Adjust to Dentures?
There will be a period of adjustment for you to become accustomed to your new dentures. How long and difficult that period might be depending on the type of dentures you have and your habits.
Speaking: You might have trouble pronouncing words you used to have no trouble saying. However, with a bit of time and practice, you'll be back to chat with ease. If you notice clicking from your dentures when you speak, call us — it could be due to issues with the fit of your dentures.
Eating: It may take a few weeks to get used to eating with your new dentures. We will give you specific instructions on what to do after your dentures are complete, but as a general guide, start with soft foods that are easy to chew. Be patient with yourself, and go slow, testing out chewing on both sides of your mouth. Avoid extremely hard or sticky foods, like certain types of candy.
General comfort: It's natural for dentures to feel odd. They're a brand-new smile, and it takes some getting used to before you feel back to normal. As a general rule, give yourself time and patience. Soon, you'll be able to enjoy your quality of life with the smile to support it.
It's important to remember that you can always contact us to discuss the fit and comfort of your dentures. If your dentures are too uncomfortable — or even if you have a question — we're here.
Is it Necessary to use Dental Adhesives?
Some people use dental adhesives to secure their dentures in place, including pastes, powders, and strips.
Not everyone needs to use dental adhesives for a secure and comfortable fit for their dentures, but there are some benefits to consider when deciding what might work best for you. Adhesives can make the fit of your dentures more stable and secure, including when you are biting and speaking. If you have a dry mouth that makes it hard for your dentures to fit securely, adhesives can offer assistance.
Likewise, if you speak in public or in front of colleagues while on the job frequently enough to require superior stability, adhesives can give you the confidence to focus on the content and delivery of your presentation — rather than the possibility that your dentures might slip and slide during it.
If you are unsure whether dental adhesives are right for you, ask us about them. Sometimes, your dentures might need to be adjusted to fit more naturally in your mouth — without dental adhesives.
Ready to start the conversation about dentures? The Anthony Dental Care team is here for you. Contact us to learn more.
Explore Your Tooth Replacement Options at Anthony Dental Care
Ready to start the conversation about dentures? The Anthony Dental Care team is here for you. If you're missing all or most of your teeth, and think that dentures might be the right treatment option for you, we encourage you to schedule a smile restoration consultation. We can talk with you about all of your treatment options, expectations and goals, and preferences and work with you to determine the best option for your smile, oral health, and budget. With our in-house dental lab, we can provide a set of custom-fit dentures and get your new dentures more quickly. To learn more or schedule your consultation, we welcome you to contact our office today.