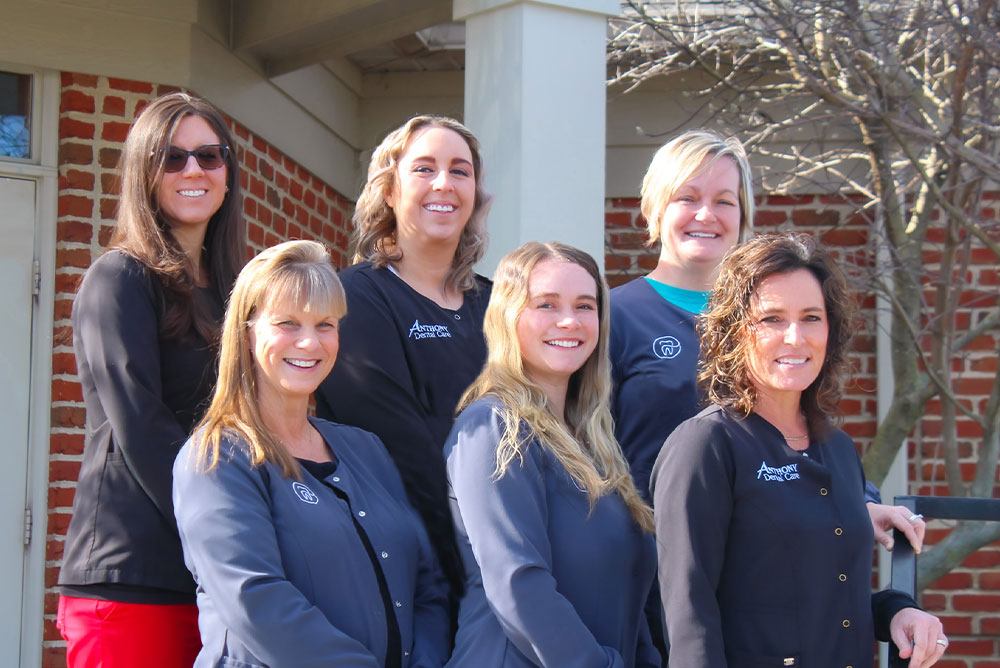 At Anthony Dental, we proudly offer our community various services to help every smile fulfill its potential. We offer the following restorative services:
Crowns and bridges
Fillings and bonding
Root canal therapy
Non-surgical gum treatment
Free laughing gas
What is Restorative Dentistry?
Restorative dentistry is a branch of dentistry that focuses on restoring the health, form, and function of the teeth, gums, and other oral structures.
Why You Might Need Restorative Dental Treatments
The health, form, or structure of an individual's teeth can become compromised throughout life for a variety of reasons. Tooth decay, disease, injury, age, and normal wear and tear can all be responsible for the deterioration of a person's oral health and/or the structure of their teeth.
Individuals who have oral health problems such as tooth decay, cavities, infections, abscessed teeth, or periodontal disease require restorative dental treatments to address the health concerns that are present before restoring the form and function of the teeth. For others who have relatively healthy smiles that have been damaged, injured, or weakened, restorative treatments might be necessary to strengthen the existing teeth or to replace teeth that have been lost.
Comprehensive Restorative Dentistry Services are Available at Anthony Dental Care
At Anthony Dental Care, we are proud to offer our community a variety of services to help every smile fulfill its potential. We offer the following restorative services:
Dental Crowns
Also called dental caps, crowns are a type of dental prosthetic that is designed to fit perfectly over a patient's tooth to seal the tooth and support its natural structure. Dental crowns are typically needed when a tooth has been compromised due to decay, infection, or injury, and are typically the only way to preserve a natural tooth following root canal therapy. Dental crowns resemble natural teeth and are designed to blend in seamlessly with their neighbors.
Dental Bridges
Dental bridges are a type of dental prosthetic that is intended to replace one or more consecutive missing teeth. They consist of two anchor points on either end of a pontic that bridges and fills the gap of missing teeth. There are a variety of dental bridges that feature different types of anchors.
Dental Implants
Dental implants are a versatile and effective treatment option for restoring a patient's smile by replacing missing teeth. With dental implants, teeth can be replaced on a one-for-one basis, or the implants can be used to support a dental bridge or all-on-4 dentures to replace multiple teeth with a limited number of implants.
Dental implants offer a natural look and feel while working just like natural teeth and providing vital stimulation and support to the jawbone.
Dental Fillings
Dental fillings are among the most commonly needed restorative dental treatments. They are most commonly used to treat dental caries (cavities) that form in the teeth as a result of tooth decay. Dental fillings both arrest the decay and restore the tooth's form.
Dental Bonding
Dental bonding is a type of composite resin that is used in a variety of ways to repair and restore teeth that have been damaged. Dental bonding has both restorative and cosmetic applications. As a restorative treatment, it can be used to repair chipped teeth, seal cracked teeth, and protect a compromised portion of a damaged tooth.
Root Canal Therapy
Root canal therapy is necessary when the interior pulp of a tooth becomes exposed to bacteria and infected – either as a result of a severe dental cavity, a broken tooth, or old dental work that has become compromised such as a loose dental filling.
Root canal therapy refers to the process of removing the bacteria, infection, and soft tissues from the interior of a tooth and its root canals before cleaning them and filling them with gutta-percha. The tooth is then sealed with a large dental filling and capped with a dental crown.
Root canal therapy is usually the last available treatment option to save a severely compromised tooth. Without a root canal, the tooth would most likely need to be extracted to prevent further health complications from occurring.
Non-Surgical Gum Treatment (Periodontal Dentistry)
Periodontal disease is a serious oral health issue marked by a bacterial infection of the gums. Patients with the earliest stage of periodontal disease, gingivitis, can work with us to treat the infection and reverse the damage it has done. More severe cases cannot be cured but must be managed to prevent more serious complications from developing.
We provide a variety of non-surgical approaches to treating and managing gum disease including more frequent dental cleanings and examinations, scaling and root planing, antibacterial trays, prescription mouth rinses, antibiotics, and more.
Pairing Restorative Dentistry With Cosmetic Treatments for a Complete Smile Makeover
Many restorative dentistry treatments also offer intrinsic cosmetic improvements to patients. For example, dental crowns both protect and support natural teeth while also improving their appearance.
For most patients who are looking to completely restore the function of their smiles while also improving their appearance, we might recommend a combination of both restorative dentistry treatments and cosmetic treatments to help our patients reach their smile goals. We enjoy working with patients to help them create healthy smiles that function and feel well while also helping them to achieve the look they desire.
Schedule a Smile Restoration Consultation at Anthony Dental Care
If you're facing oral health problems, are missing teeth, or have a smile that has been damaged, we strongly encourage you to schedule a smile restoration consultation with our dentists. We can examine your teeth and gums, talk with you about your health history, and work with you to create a restorative dental treatment plan that can help you achieve your smile goals.
To learn more about restorative dentistry and the full range of services available to our patients, we welcome you to contact Anthony Dental Care today.