Invisalign Provider in Sunbury & Centerburg
A Convenient Orthodontic Solution
Invisalign is a groundbreaking orthodontic treatment option that uses clear, removable aligners to straighten teeth discreetly, making it a favored choice among adults in the Sunbury and Centerburg area. Beyond its aesthetic benefits, Invisalign can also enhance your overall oral health. If you have a teenager, over the age of 16, at home who prefers Invisalign over traditional braces, we're here to help. Schedule an Invisalign consultation with Anthony Dental Care (ADC) to explore all the available options.
Experience Comfort & Convenience with Invisalign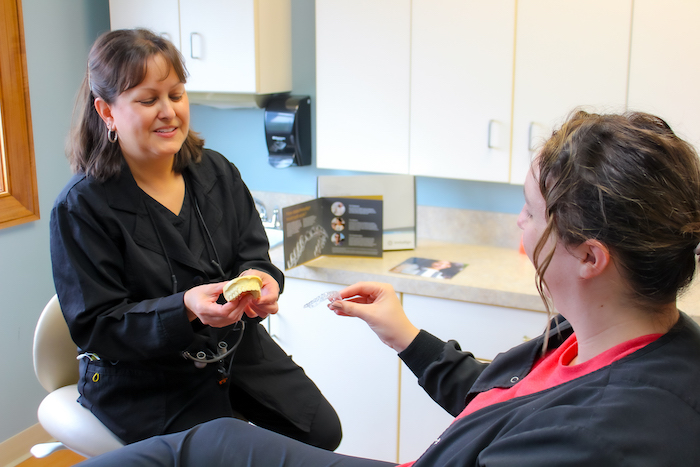 Invisalign clear aligners are widely regarded in the field of dentistry. At ADC, we understand the value of your time. With a shorter treatment duration and personalized treatment plans, you can achieve your desired results efficiently.  This translates to a quicker transformation of your smile, thanks to our skilled dental teams in Sunbury and Centerburg.
Invisalign offers a liberating experience with its removable aligners. Enjoy your favorite foods without restrictions or the hassle of cleaning around brackets and wires Simply remove the aligners, enjoy your favorite meals, and maintain optimal oral hygiene with ease. Invisalign aligners not only offer a comfortable fit but also enhance your smile. To make Invisalign treatment more accessible, we offer monthly payments, insurance coverage, and the utilization of pre-tax dollars from your FSA/HSA.
What is Invisalign?
Invisalign is an innovative alternative to traditional braces that uses a series of custom-made clear plastic aligners, collectively known as the Invisalign system, that gradually shift teeth into their desired positions. These aligners are virtually invisible, making them the ideal choice for those who seek discreet teeth straightening. Invisalign aligners can also be removed with ease for cleaning and brushing, simplifying the process of maintaining excellent oral hygiene.
Why Choose Invisalign Over Traditional Braces?
Invisalign, often referred to as clear braces, discreetly enhances your teeth alignment. They offer comfort and can be effortlessly removed when you wish to showcase your smile or indulge in special foods. Invisalign simplifies and accelerates your treatment process. According to the American Association of Orthodontists, Invisalign is a "less conspicuous" method for achieving straight teeth.
How Does Invisalign Work?
Invisalign treatment is versatile and effectively addresses various dental issues. Invisalign's clear aligners adeptly straighten crooked teeth. With advanced technology and personalized treatment plans, Invisalign offers a reliable alternative to traditional braces, ensuring the achievement of your desired smile and an improvement in oral health.
Is Invisalign Right for You?
Anthony Dental Care evaluates your unique case to determine if Invisalign is the most suitable option for you. We take into consideration factors such as the complexity of your case and your commitment to the treatment. In cases requiring more extensive correction, we can explore alternative treatments. A consultation with our team will help ascertain if Invisalign aligns with your specific needs.
How Effective is Invisalign?
Invisalign treatment has consistently proven highly effective in correcting a range of dental issues, including periodontal disease. It enhances periodontal health by reducing the presence of bacteria around your teeth and gums. The clear aligners can deliver desired results in the majority of cases, contingent on faithful adherence to the recommended wear schedule. Regular check-ups with our ADC dentist are essential to monitor progress and make any necessary adjustments. After the treatment period has concluded, our patients are advised to continue wearing a retainer at night for the foreseeable future. Invisalign can help you achieve the smile you've always wanted.
What Factors Should Be Considered Before Choosing Invisalign?
Factors to consider before choosing Invisalign include the complexity of your dental issues, your commitment to wearing aligners as instructed, your overall oral health and hygiene practices, budget considerations, and insurance coverage. ADC is committed to assisting all our patients in the Sunbury and Centerburg areas.
A Straight Smile Will Require a Retainer
Following the completion of your Invisalign treatment, it's crucial to understand that maintaining your straight smile will require the use of a retainer. The retainer ensures your teeth remain in their newly aligned positions and prevents undesired shifting. Choosing Invisalign is an investment in both your oral health and your confidence. With a personalized treatment plan by ADC and proper care, you can achieve the radiant smile you've always aspired to have.
Schedule Your Consultation with Anthony Dental Care Today
Invisalign is a discreet and convenient alternative to traditional braces. Its transparent aligners offer an effective path to dental correction, eliminating the inconvenience of metal wires and brackets. With its adaptability and proven efficacy, Invisalign represents a contemporary orthodontic solution. Anthony Dental Care offers Invisalign as part of our cosmetic dentistry to help the residents of Sunbury and Centerburg explore straighter teeth and healthier mouth. Embark on your journey toward a beautiful smile with perfectly aligned teeth. Call our Sunbury location at 740-609-1917 or our Centerburg location at 740-697-3421 to schedule your appointment.